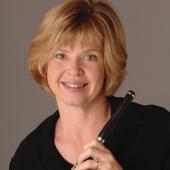 Flute - Emerson/Harris Program
Cynthia Meyers joined the Boston Symphony as the piccolo player in the autumn of 2006. Before coming to Boston, she served as the principal piccolo of the Houston Symphony for nine years under the direction of both Christoph Eschenbach and Hans Graf. She is the former principal flutist of the Omaha Symphony, a post that she held for nine seasons. A native of Somerset, Pennsylvania, she began playing the piano at age 3. She earned her Bachelor of Fine Arts degree at Carnegie-Mellon University and finished her Master of Music at the Cleveland Institute of Music as a student of Jeffrey Khaner, principal flutist of the Philadelphia Orchestra. She took an interest in playing the piccolo while in Cleveland, and continued study solely on that instrument with William Hebert, of the Cleveland Orchestra. In 2004, Ms. Meyers performed the world premiere of the "Concerto for Piccolo and Contrabassoon" by Damian Montano. The piece was written for her and the contrabassoonist of the Houston Symphony, Jeff Robinson. 
 
In addition to playing with the Boston Symphony, Ms. Meyers has performed with the Grand Teton Music Festival, the Minnesota Orchestra and the Chicago Symphony. She has been the soloist with the Omaha Symphony, Pro Arte Chamber Orchestra and The Boston Symphony and is currently on the faculty of the New England Conservatory of Music.