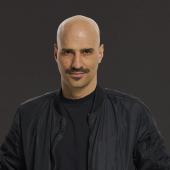 'The balance of power is ever-shifting in Daniel Irizarry's thrillingly kaleidoscopic, boldly physical world'. The New York Times
'Rabelaisian director Daniel Irizarry, a capering theatrical creature with a goat's appetite for heights'. The New Yorker
Daniel Irizarry is a Puerto Rican born International Experimental Theatre director, actor/performer and educator based in NYC. His work embraces highly stylized and visceral acting, pataphysics, a profound celebration of GERMS, and a communion with the audience through consent. He is the Artistic Director of One-Eighth Theater. In his most recent work he directed and performed the last project ever for the historic closing of 30 years at the New Ohio Theatre titled, 'Ultra Left Violence' written by Robert Lyons.
Other notable credits; The Maids by acclaimed playwright Jose Rivera (New York Times Critics pick); UBU by Adam Symkowicz (Time Out NY Critics pick). He directed the world premiere of Busu by Mishima at Provincetown Tennessee Williams Theatre Festival. He has directed and performed YOVO (written by Robert Lyons) in NYC, Poland, Cuba and South Korea. He directed and performed the critically acclaimed production of My Onliness by Robert Lyons at New Ohio Theatre in NYC, which was selected as one of the best performances on Broadway and Off-Broadway in 2022 by Theatermania. Over his career he has directed, performed and taught workshops in India, Germany, Japan, Lithuania, Italy, Romania, UK, Colombia, among others.
His extensive teaching career spans the globe, including: Guest Professor at Folkwang University in Germany, Visiting Assistant Professor at Bilkent University Performing Arts program in Ankara, Turkey and most recently as Assistant Professor at the Acting Department at Seoul Institute of the Arts in South Korea. He holds an MFA in Acting from Columbia University, a BA in Drama at The Universidad de Puerto Rico where he has subsequently returned to teach at both.