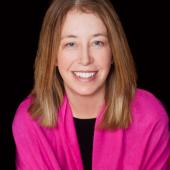 Elena Ruehr says of her music "the idea is that the surface be simple, the structure complex."
Currently composer in residence with the Lincoln Symphony, she has a major list of recordings including her orchestral works (O'Keeffe Images, BMOP Sound) as well as the opera Toussaint Before the Spirits (BMOP Sound), her cantatas Averno (with the Trinity Choir, Avie), and her Six String Quartets (the Cypress String Quartet, Borromeo Quartet and Stephen Salters, Avie). Her other recordings include Icarus  (Avie), Jane Wang considers the Dragonfly (Albany), Lift (Avie), Shimmer (Metamorphosen Chamber Ensemble on Albany) and Shadow Light (The New Orchestra of Washington with Marcus Thompson, Acis), as well as many others.
Her works have been commissioned and performed by numerous string quartets, including the Arneis, Biava, Borromeo, Cypress, Delgani, Lark, Quartet Nouveau, Roco and Shanghai string quartets. An award winning faculty member at MIT, she has been a Guggenheim Fellow, a fellow at Harvard's Radcliffe Institute and composer-in-residence with the Boston Modern Orchestra Project. Known for her vocal music and collaboration with poets, she has written five operas, five cantatas and a number of songs. She is a graduate of the University of Michigan and the Juilliard School, and has also written extensively for orchestra, chorus, wind ensemble, chamber ensemble, instrumental solo, opera, dance and silent film. Her work has been performed internationally and described as "sumptuously scored and full of soaring melodies" (The New York Times), and "unspeakably gorgeous" (Gramophone).
Dr. Ruehr has taught at MIT since 1992 and lives in Boston.  Winner of the Baker Undergraduate Teaching Award, she is a committed teacher at MIT.