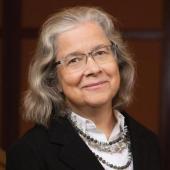 Class of 1949 Professor of Music Emeritus
Ellen T. Harris (eharris@mit.edu) B.A. '67 Brown University; M.A. '70, Ph.D. '76 University of Chicago, Class of 1949 Professor Emeritus at MIT is a musicologist whose work focuses on Handel, Baroque opera, and vocal performance practice. She is a regular Visiting Professor at The Juilliard School.
 Her most recent book, George Frideric Handel: A Life with Friends (W. W. Norton, 2014) won the Nicolas Sloniimsky Award for Outstanding Musical Biography (ASCAP-Deems Taylor Award) in 2015. Her previous book, Handel as Orpheus: Voice and Desire in the Chamber Cantatas (Harvard University Press, 2001) received the 2002 Otto Kindeldey Award from the American Musicological Society and the 2002-03 Louis Gottschalk Prize from the Society for Eighteenth-Century Studies. Her earlier publications include an edition of cantatas for alto voice (Oxford University Press, 2001), a critical facsimile edition of Handel's opera librettos (13 vols.: Garland, 1989), Henry Purcell's 'Dido and Aeneas' (Oxford, 1987), an edition (with Edward Dent) of Purcell's Dido and Aeneas (Oxford, 1987), and Handel and the Pastoral Tradition (Oxford, 1980). Her most recent work has focused on Handel's finances, and she is currently writing a book on the performance of Handel's operas.
 Articles and reviews by Professor Harris have appeared in numerous publications including Journal of the American Musicological Society, Händel Jahrbuch, Notes, and The New York Times. Her article "Handel the Investor" (Music & Letters, 2004) received the 2004 Westrup Prize. 
 She has enjoyed residencies at the Mary Ingraham Bunting Institute of Radcliffe College at Harvard University (1995-96) and at the Institute for Advanced Study in Princeton, New Jersey (2004). She was elected a Fellow of the American Academy of Arts and Sciences (1998) and named an Honorary Member of the American Musicological Society (2011). For the 2013-14 academic year, she was chosen as a Phi Beta Kappa Visiting Scholar and in 2005 won the Gyorgy Kepes Prize for her contributions to the arts at MIT. Professor Harris also has performed as a soprano soloist; she sang the National Anthem at Fenway Park in 1991 and in 1997 appeared as a soloist with the Boston Pops, John Williams conducting.