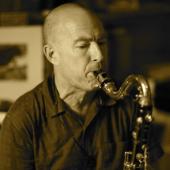 Kenan Sahin Distinguished Professor
Director of Center for Art, Science and Technology (CAST)
Evan Ziporyn is a composer/clarinetist who has forged an international reputation through his genre-defying, cross-cultural works and performances.  At MIT he is Inaugural Director of the Center for Art, Science and Technology (CAST), founder & Artistic Director of Gamelan Galak Tika, and curator of the MIT Sounding performance series.
His music has been commissioned and performed by Yo-yo Ma's Silkroad Ensemble, Brooklyn Rider, Maya Beiser, Roomful of Teeth, Bang on a Can, Kronos Quartet, Wu Man, the American Composers Orchestra, Sentieri Selvaggi, the American Repertory Theater, Steven Schick, So Percussion, Gamelan Sekar Jaya, Sarah Cahill, and the Boston Modern Orchestra Project.  They have been presented at international venues including Lincoln Center, Carnegie Hall, London's Barbican Center, the Holland Festival, Brussels Ars Musica, the Singapore Festival, the Sydney Olympics, the Bali International Arts Festival, and Big Ears.  His opera A House in Bali (directed by MIT colleague Jay Scheib) was featured at BAM Next Wave in 2010; that same fall his works were featured at a Carnegie Hall Zankel Making Music composer's portrait concert. His multimedia interactive stallation, Arachnodrone (a collaboration with Ian Hattwick, Christine Southworth & Isabelle Su) is currently exhibited at the MIT Museum, following its 2018 debut at Palais de Tokyo in Paris. 
From 1992-2012 he was a founding member of the Bang on a Can All-stars (Musical America's 2005 Ensemble of the Air), finishing his tenure with the group with an appearance on an episode of PBS' Arthur.  His long-time work with the Steve Reich Ensemble led to sharing a 1999 Grammy for Best Chamber Performance for their recording of Music for 18 Musicians.  He is also the featured multi-tracked soloist on Reich's Nonesuch recording of New York Counterpoint.  Other awards include a 2012 Massachusetts Arts Council Fellowship, the 2007 USArtists Walker Award and the 2004 American Academy of Arts and Letters Goddard Lieberson Fellowship.  
His puppet opera Shadow Bang, a collaboration with master Balinese dalang Wayan Wija, was premiered at MassMOCA and was the centerpiece of the 2006 Amsterdam GrachtenFest.  Recordings of his works have been released on Sony Classical, Cantaloupe Music, Islandia Music, New Albion, New World Records, Koch, Innova, CRI, and numerous independent labels. He has collaborated with some of the world's most creative and vital living musicians, including Brian Eno, Paul Simon, Ornette Coleman, Iva Bittova, Maya Beiser, Thurston Moore, Meredith Monk, Bryce Dessner, Philip Glass, Terry Riley, Louis Andriessen, Shara Worden, Sandeep Das, Kelley Deal, Cecil Taylor, Henry Threadgill, Wu Man, Matthew Shipp, Wayan Wija, Kyaw Kyaw Naing, and Ethel.
Recent projects include 2023's telematic Poppy 88, two 2022 solo albums, Bowie Symphonic: Blackstar  (w/Maya Beiser), and daily podcast music for acclaimed filmmaker Caveh Zahedi. His compositions and arrangements were featured throughout Ken Burns' Vietnam; his arrangements were also featured on Silkroad Ensemble's Grammy-winning CD, Sing Me Home.  Other recent recordings include Terry Riley's Ki, Eviyan: Nayive (w/Iva Bittova & Gyan Riley), and collaborations with DuoJalal, Czech composer Beata Hlavenkova, and Polish jazz masters Waclaw Zimpel and Hubert Zempel.  His performance with the MIT Wind Ensemble of Don Byron's Clarinet Concerto, commissioned by MIT, and released on Sunnyside Records, received a 5-star Downbeat review.