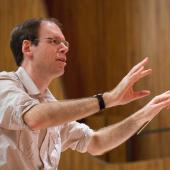 Director, Wind and Jazz Ensembles
Frederick Harris, Jr., Director of Wind and Jazz Ensembles at MIT. M.M., New England Conservatory, Ph.D., University of Minnesota. He has served as acting music director of the MIT Symphony Orchestra, assistant conductor of the Boston University Tanglewood Institute Young Artists Wind Ensemble, music director of the Summer Music Festival at the South Shore Conservatory, conductor of the Concerto Grosso Orchestra at the University of Minnesota, and he has guest conducted the New Hampshire Philharmonic and the Chamber Music Society of Minnesota, and for numerous wind and jazz festivals for the Massachusetts, New Hampshire, and Maine Music Educators Association. Dr. Harris' ensembles at MIT have worked with artists such as Gunther Schuller, John Harbison, Michael Colgrass, Frank Battisti, Herb Pomeroy, Joe Lovano, Kenny Werner, Don Byron, Ran Blake, Chick Corea, Peter Child, Guillermo Klein, Kenneth Amis, Jamshied Sharifi, Young-Nam Kim, Dana Wilson, Magali Souriau Steve Turre, Miguel Zenón, and Evan Ziporyn.
The joint MIT Wind Ensemble and Festival Jazz Ensemble recording Infinite Winds on Sunnyside Records, was awarded the highest rating by Downbeat magazine (5 stars), and was chosen as one of Downbeat magazine's "Best Albums of 2015: Masterpieces." Both of these honors are firsts in MIT's history. It is extremely rare that student ensembles are mentioned in Downbeat's highly selective "best of the year" list. The Boston Globe called Infinite Winds "one of the most compelling CDs of the year." Other recordings by the MIT Wind Ensemble include Waking Winds (2004), published by Innova Recordings of the American Composers, and Solo Eclipse (2008), published by Albany Records. Both CDs feature premiere recordings by composers such as Schuller, Child, Ziporyn, Klein, and Amis. Dr. Harris conducted Kenny Werner's No Beginning, No End (2010), in New York City for Half Note Records. Dr. Harris and the MIT Wind Ensemble have been featured on PBS in the 2014 Emmy-winning documentary Awakening: Evoking the Arab Spring through Music. He also has appeared on Minnesota Public Radio's All Things Considered and other MPR programs. In 2015 he produced and premiered a 30-minute documentary film Seeking the Infinite: Stanislaw Skrowaczewski — A Life in Music, at Orchestra Hall, Minneapolis, Minnesota. Over 600 people viewed the film and it was reviewed as "essentially viewing" by Minnesota Public Radio.
Dr. Harris' first book, Conducting with Feeling, was published by Meredith Music in 2001. His most recent book, Seeking the Infinite: The Musical Life of Stanisław Skrowaczewski, was published by CreateSpace in 2011. He also has recently contributed articles to OehmsClassics, The Cleveland Orchestra and the Minnesota Orchestra. He is a strong advocate for the creation and performance of new music, having commissioned and/or premiered over 90 works for wind, jazz, and mixed ensembles. In 2013 he led the world premieres of Chick Corea's From Forever (Suite for Big Band) and Don Byron's Concerto for Clarinet and Wind Ensemble. In June of 2016, Dr. Harris organized a commission consortium involving three composers and 40 universities/schools honoring the 85th birthday of legendary wind conductor Frank Battisti. The project is sponsored by the American Composers Forum. He has lectured on music in Canada and at many New England universities, as well as for the Minnesota Orchestra and the Deutsche Radio Philharmonie Saarbrücken.
His conducting teachers included Stephen Massey, Frank Battisti, Gunther Schuller, Stanisław Skrowaczewski, and Craig Kirchhoff. He studied percussion with Arthur Press, former principal percussionist with the Boston Symphony Orchestra, and jazz drums with Alan Dawson. In recent years he has performed as a drummer with the Aardvark Jazz Orchestra, John Harbison, the Boston Pops, and with Grammy-winning jazz saxophonist Joe Lovano. He was awarded the 2010 Paul Smith Hall of Fame Award from the Massachusetts Instrumental and Choral Conductors Association. The award is presented annually "to a Massachusetts music conductor who is a musical and personal inspiration to students, the community, and other professional conductors." Nominated by his students, Dr. Harris is a 2013 recipient of the James A. and Ruth Levitan Award for Excellence in Teaching in the School of Humanities, Arts, and Social Sciences at MIT.  http://www.seekingtheinfinite.com/