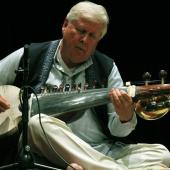 Senior Lecturer, Emeritus
George Ruckert, Senior Lecturer Emeritus in Music. MA, Music Theory and Composition, Queens College; Gayan Vadya Bid, Ali Akbar College, Ph.D., Ethnomusicology, UC Berkeley.
Ruckert joined the MIT faculty in 1992, and has taught western music, world music, popular music, music fundamentals, folk music, and harmony and counterpoint.  But his major field is the classical music of North India, which he studied with the eminent Indian sarod master Ali Akbar Khan for more than twenty years.  A sarod (twenty-five stringed lute) artist himself, he has played many concerts across the United States and Canada, and has made several tours of Europe and India.  He has recorded two CDs on the sarod, composed and arranged numerous scores for Kathak dance, and written five books on the music of North India.  In 1993 he founded MITHAS with alumnus Moez Rawji.  This concert organization functions as an arm of the Department of Music and the Concert Office, but independently raises its own funds, and has produced over 150 concerts, lectures, and demonstrations in its twenty-four years of existence, bringing artists of distinction to campus from India, Europe, and North America.  As a secondary field, Mr. Ruckert has studied and played the fiddle traditions of the US and Canada, Ireland and Scotland, and published and collected the music of the late Cape Breton fiddler John Campbell.  Recently retired, Mr. Ruckert still teaches a course on the Music of North India in the spring semesters.