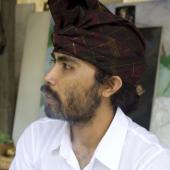 Guest Director, Gamelan Galak Tika
Originally from the village of Pengosekan, Bali, Gusti Komin Darta has been hailed as a leading composer, performer, and teacher of Balinese music of his generation. Born in 1978, he first studied music with his father, renowned musician Gusti Ketut Kerta, and began performing professionally for shadow puppet plays (wayang) at the age of 9. As a teenager, he enrolled at the prestigious national arts conservatory, now known as the Indonesian Institute for the Arts. Gusti Komin is a founding member of the virtuosic Balinese gamelan Çudamani and has toured extensively throughout Europe, Japan and the United States. For 25 years he taught gendér wayang, reyong and kendang instruments to local and foreign students out of his family home in Pengosekan, Bali as well as teaching overseas.
Gusti Komin currently performs and teaches widely along the U.S. east coast and is sought after as a composer, performer, and educator. He is Founding Director of the innovative chamber gamelan Saiban, and teaches at various American universities including MIT, as well as community-based groups such as Gamelan Galak Tika in Boston and Gamelan Dharma Swara in NYC.
Widely acknowledged Master of gendér wayang, one of its foremost contemporary composers blending traditional and modern gamelan music in imaginative ways, exacting teacher and rebellious spirit, Komin writes music that explodes conventions and pushes limitations of even the strongest performers.