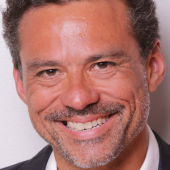 Jorge is an actor and theater professor from Los Angeles and Mexico who has worked mostly in New York and Regional Theaters in the U.S., Peru and Russia. He collaborates with artists from many backgrounds and disciplines in the exploration of social equity, diversity and culture through the performing arts.
As an actor, he has had the privilege of working with some of the world´s most celebrated theater practitioners such as Karin Coonrod, Jay Scheib, Octavio Solis and Aya Ogawa from the U.S., Peter Brook, Niel Bartlett, Mark Wing-Davie from England, Dominique Serrand from France, Rodrigo Benza from Peru, Janos Saez from Hungary and Adolf Shapiro from Russia.
He forms part of the international theater group Compagnia de Colombari based in New York dedicated to cultural, social and artistic diversity and the decolonization of classical texts. Recent projects include More or Less I Am Remote with Compagnia de Colombari, El Colaborador at MicroTeatro Lima, a play that reveals political corruption in Peru. Jorge has also created performances for El Día de los Muertos at Museo del Barrio New York and performed at The Public Theater, La Mama, INTAR, Target Margin Theater, Here Arts Center, P.S 122, The Lark, American Repertory Theater, BFA Boston, San Francisco Shakespeare Festival, Teatro de la Esperanza, San Jose Stage Company and Mixed Blood Theater.
Jorge has worked as Assistant Professor and Theatre Program Coordinator at Bunker Hill Community College, He has been an instructor at City University of New York, Massachusetts Institute of Technology, La Pontificia Universidad Católica del Perú, UPC, Universidad Científica del Sur and La Universidad de San Ignacio de Loyola in Peru. He also is a teacher and co-founder of the theater school in Peru, Talleres de Teatro con Jorge y Monilú--acting workshops for children, youth and adults. He is of Mexican heritage and loves spending time with his brilliant actor and producer wife and his two amazing daughters. He enjoys cooking in the evenings, running, surfing very early in the mornings and swimming in lakes with the familia.