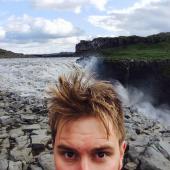 Joshua Higgason is a video, scenic, lighting, and interactive media designer, creating unique live experiences for theater, concerts, opera, and events.  Recent productions include Control (Five Landscapes for Orchestra), a new piece by Nico Muhly (video and scenic; Utah Symphony); Carmen (video; YoungArts- Miami; Dir. Jay Scheib); Radiolab's Apocalyptical (video, scenic, lighting; US Tour),  Mackie Messer- Eine Salzburger Dreigroschenoper (video; Salzburger Festival; Dir. Julian Crouch), Aging Magician (video and lighting; Dir Julian Crouch), Sufjan Stevens' Carrie and Lowell Tour 2015 (video), Persona (video and lighting; Dir. Jay Scheib) Powder her Face (video; NYC Opera; Dir. Jay Scheib), The Ambassador (video; BAM; Dir. John Tiffany), Swamp is On (video; Philly Live Arts; Dr. Dog and Pig Iron); Dream of the Red Chamber (Times Square Art Alliance; Dir. Jim Findlay), Platonov; or The Disinherited (video, scenic, lighting, La Jolla and The Kitchen (NYC); Dir Jay Scheib), Sontag: Reborn (scenic; The Builders Association), and Round-Up (scenic and projection; BAM; Sufjan Stevens). His recent concert collaborations with Candystations have included SXSW, Ray Lamontagne, M. Ward, and Sufjan Stevens/Bryce Dessner/Nico Muhly's Planetarium.
Over the years, he has designed, toured, and consulted for Jay Scheib, The Builders Association, Big Dance Theater, Ira Glass, Bang On a Can, Al Pacino, Theater for One/ Christine Jones, The Windmill Factory (Tours for Metric, Jr Jr, Phantogram), Carrie Mae Weems, Tony Dove, TED, and Technical Artistry. His work has also been seen at venues including Carnegie Hall, BAM, MassMoCA, Sydney Opera House, Theatre National de Chaillot (Paris), the Planetarium at AMNH, The Atlantic, Sotheby's, The Public, The Box (NYC), The Performing Garage, and many others.  
He teaches design at MIT and has taught classes and workshops at MIT, The New School, Bennington, NYU, LIU, Princeton, Duke, and BAM.