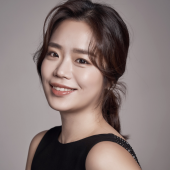 Jung-A Bang, pianist
Praised for her "charming and uncompromised virtuosic playing" by the Calgary Herald, pianist Jung-A Bang has appeared in prestigious concert halls across the world as a soloist and collaborative artist. Jung-A has performed in iconic venues, including Weill Hall at Carnegie Hall; Merkin Hall in New York City; Washington, D.C.'s Kennedy Center; Jordan Hall in Boston; Chicago's Cultural Center (live-streamed by WFMT;) and IBK Hall at Korea Arts Center and Ewon Arts Center, both in Seoul, Korea.
As an avid chamber musician, Jung-A has spent summers at the Perlman Music Program as their Young Artist Fellow and at the Banff Chamber Music Residency Program with her duo, L'étoile, where her performances were praised for "forging a new path with the music and teaching not only a different way to play repertoire, but a new way for its audiences to listen too."
Jung-A's recent concert appearances include playing with the Rockport Festival Chamber Orchestra, where she was invited to perform recitals with the festival chamber orchestra, led by Earl Lee, the assistant conductor of the Boston Symphony Orchestra, and violinist Danny Koo. At the NPR's From the Top Showcase at Jordan Hall in Boston, Jung-A was invited to perform as a guest artist alongside renowned musicians such as soprano Lauren Michelle and cellist Tony Rymer. She is also a frequent guest artist at the Martha's Vineyard Chamber Music Society, where she performed duo and chamber recitals with cellist Eunghee Cho and violinist Zenas Hsu.
As a sought-after collaborative pianist, Jung-A has worked on numerous concert and recording projects with renowned musicians such as Radu Paponiu, Artistic and Music Director of the Southwest Florida Symphony Orchestra, and Julia Yang, the cellist of the renowned Merz Trio. Jung-A has also served as a staff pianist at the Banff International Music Program, the Aspen Music Festival, and prestigious music schools such as The Juilliard School and New England Conservatory. Her exceptional collaborative skills and ability to seamlessly blend her playing with other musicians have earned her a reputation as a reliable and versatile pianist who can excel in any musical setting. Jung-A's passion for collaborative work extends beyond performance, as she also regularly engages in pedagogical collaboration with her colleagues and students to bring new perspectives and insights to their musical studies.
 Jung-A earned a Bachelor of Piano degree from New England Conservatory, a Master of Music degree in Collaborative Piano from The Juilliard School, and a Doctor of Musical Arts degree in Collaborative Piano from New England Conservatory. Currently, she is a faculty member at the Massachusetts Institute of Technology and Walnut Hill School for the Arts, where she continues to inspire and educate students while sharing her love of music through collaborative work and performances worldwide.