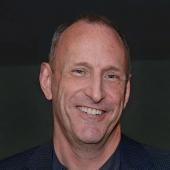 The creation of compelling and meaningful experiences—in images, in writing, in sound—has been a hallmark of Kyle Hoepner's career.
He has had a distinctly hands-on relationship with the world of publishing and design for more than three decades, first as a typesetter for high-end magazines such as The Atlantic Monthly and later as a graphic designer and art director for numerous business, financial, and computing titles including Fidelity Focus, Inc. Technology, MIT Sloan Management Review, and Better Software. An invitation to join the founding team of New England Home in 2005 provided a welcome opportunity to dive even more deeply into content and strategy, as he helped build the start-up brand into the regional powerhouse it eventually became. As editor-in-chief from 2008 to 2019, his goal was to find the most impactful, attractive means of conveying solid, useful information, and to foster mutually beneficial relationships among core constituencies.
Similar concerns underlie Kyle's work in the world of music as a composer, performer, teacher, and concert presenter. In addition to singing with some of Boston's most accomplished ensembles, such as the Handel and Haydn Society, Boston Baroque, and Emmanuel Music, he also served as director of the New Music from Brandeis concert series and as chairman of the League–ISCM, Boston, a nonprofit organization that produced concerts, publications, and awards programs to promote the cause of contemporary classical music in New England. He earned his bachelor's degree in composition from New England Conservatory (where he was awarded the George Whitefield Chadwick medal) and holds MFA and Ph.D. degrees in composition and theory from Brandeis University, where his principal teachers were Martin Boykan, Edward Cohen, and Yehudi Wyner.
Kyle has also been active as a public speaker and panel moderator, appearing across the U.S. in association with High Point Market Authority, the Design Influencers Conference (formerly the Design Bloggers Conference), the ArchitectureBoston Expo, the B/A/D Talks, and other organizations.
He is currently working as a freelance consultant, writer, and photo stylist, undertaking assignments for clients such as Architectural Digest, Boston Design Week, the Raiz Project (a collective of Brazilian furniture designers), and an array of architecture and interior design studios around the U.S.