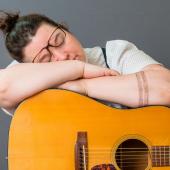 MIT Vocal Jazz Ensemble and Emerson/Harris Program
Laura Grill Jaye is the Director of the MIT Vocal Jazz Ensemble. Founded by MacArthur Fellowship and Pulitzer Prize winner John Harbison, the VJE torch was passed to Laura in 2017. Laura loves to work in all stages of music making. She is a multi-instrumentalist, composer, arranger, improviser, collaborator, performer, and teacher. 
Laura is half of the musical-writing duo "Grill and Chowder" with Shayok Misha Chowdhury. Their work has been seen or developed at Ars Nova, New York Theatre Workshop, SPACE on Ryder Farm, NYMF, HERE Arts Center, and Joe's Pub at the Public Theatre. Their show Artemis in the Parking Lot was awarded "Best of Fest" at NYMF 2016. They are also winners of a 2021 Jonathan Larson Grant from the American Theatre Wing.
Laura's original music combines her jazz mentality with her affinity for folk and rock storytelling. The Boston Globe said, "It's jump jazz, it's barroom rock, it's chamber folk, and it's downright infectious." With the Laura Grill Band, a personal project, she has written and produced two records, Never Before (2011) and Tell All Your Friends (2013).
In 2011, Laura began her teaching career by building the music department at Meridian Academy in Boston from the ground up. The program features many traditional classes such as singing, guitar, songwriting, and music theory. Over time, she has developed less-traditional courses such as "How to Listen to Music" (a music appreciation class) and "Weird Instruments" where students study, design, and build their own instruments.
Laura has always walked through life with arms wide open. This openness to experience has led to an exciting life of performances and collaborations with musical giants. Laura arranged for and performed with Jacob Collier at his 2018 Djesse Vol. 1 World Premiere concert. On her 2018 tour, Audra McDonald performed one of Laura's arrangements with original lyrics at Boston Symphony Hall and Lincoln Center. Most recently, Laura has worked intimately with Luciana Souza in an educational setting at MIT. Other notable teachers/collaborators include Lawrence Hobgood, Paul Wertico, Dave Holland, Jason Moran, Dominique Eade, and Sara Serpa.
Laura has a B.A. in Jazz Voice and Composition from the Chicago College of Performing Arts at Roosevelt University and an M.A. in Jazz Studies and Vocal Performance from the New England Conservatory.