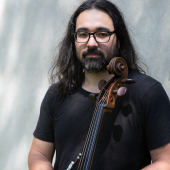 Leo Eguchi has been described as "copiously skilled and confident" (New York Times) with performances that were "ravishing" (New Bedford Standard-Times) and "played with passion and vitality" (Boston Music Intellegencer). He has performed in leading venues ranging from Afghanistan to Australia to Austria and appears frequently the Boston Pops, is principal cellist of the New Bedford Symphony as well as the Ambient Orchestra, and has appeared with nearly all of New England's notable ensembles.
As a musical entrepreneur, Leo is co-founder of the Willamette Valley Chamber Music Festival in Oregon Wine Country, which has paired wine and music for four seasons of consistently sold out performances in wineries. In 2015 Leo also co-founded the Boston-based Sheffield Chamber Players, which brings world-class into small intimate venues almost for almost 40 performances each season. Many of his recorded chamber music performances may be found on Navona Records, and a new CD of string quartets performed by the Willamette Valley Chamber Music Festival will be released in late 2019.
Leo's primary teachers include George Neikrug, Tony Elliott and he holds degrees from Boston University and the University of Michigan in music as well as physics.