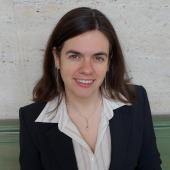 Leslie Tilley, Associate Professor of Music (B.Mus. 2000, Acadia University; M.A. 2003 and Ph.D. 2013, University of British Columbia), is a music analyst and ethnomusicologist whose research focuses on analytical approaches to non-canonic musics, with a particular interest in musical transformation. Her book, Making It Up Together: The Art of Collective Improvisation in Balinese Music and Beyond, was published with the University of Chicago Press in 2019. It is a sweeping study of collectively improvised practice, proposing new, cross-culturally applicable models for the analysis of both improvisatory process and collective creation, and demonstrating their analytic power through the close musical examination of two collectively improvised practices from Bali, Indonesia: the four-person melodic reyong norot practice and the paired interlocking drumming tradition kendang arja. The book won the prestigious Emerging Scholar Award from the Society for Music Theory in 2022.
Tilley's work at once delves deeply into musical particulars and proposes broad-reaching analytical approaches and disciplinary interventions. In various recent articles and chapters in edited volumes, she has explored ways that ethnography and fieldwork methods can nuance an analysis of kendang arja improvisation, borrowed theories of linguistic diffusion and variation to explain how ​improvised arja drum patterns move and change across time and space, analyzed influences of Balinese music on 20th-century Western composers, proposed new pedagogical models for teaching gamelan outside Indonesia, broadly examined and critiqued the many analytical methods used by ethnomusicologists over the last 140 years, and, in a collaboratively-written piece, examined the challenges, goals, disagreements, and possible ways forward for diversifying and decolonizing music theory pedagogy. Tilley's newest work expands the purview of her forays into musical transformation, seeking ways to analyze the complex creativity within constraint inherent in the production of popular music cover songs. She has presented her work at several national and international conferences including, among others, Analytical Approaches to World Music (AAWM), Society for Ethnomusicology (SEM), Society for Music Theory (SMT), International Association for the Study of Popular Music (IASPM), and Society for Music Analysis (SMA).
Leslie regularly teaches Rhythms of the World (21M.053), an innovative cross-cultural fundamentals of music course of her own design, Musics in Bali (21M.292), Fundamentals of (Tonal) Music (21M.051), and Introduction to World Music (21M.030). She has also taught an Advanced Seminar in Music (21M.500) on Analyzing Popular Music and led the MIT Balinese gamelan (21M.450).