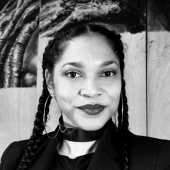 McLeod explores black identity and social constructs through her portrait paintings, textiles, and sculptures. Currently on exhibit at the 2022 deCordova Triennial, her 2020 MFA thesis made her a featured artist on the MFA, Boston 2020 Takeover Fridays social media project, the 2020 Area Code Art Fair StoreFronts Projects, and one of the Boston Globes "5 Outstanding Art School Grads". In 2021 she received a Walter Feldman Fellowship, awarded by the Arts&Business Council of Greater Boston and was a spotlighted artist interviewed by Cristela Guerra at WBUR/NPR Boston. She has received the Will and Elena Barnet Painting Award, a Tisch Library Graduate Research Fellowship, and presented at Black Portraitures, NYU.
She was awarded a Post Graduate Teaching Fellowship for the Senior Thesis course at the SMFA and was an Adjunct Professor in Beginning Drawing at SCSU for the 20/21 school year. McLeod is currently an Adjunct Professor at Maine College of Art (MECA) and Boston College.
Artist Statement
My paintings, textiles, and sculptural works investigate how history and race relate to the power of the black body by combating false narratives and exploring the creation of new ones. Uniting symbolism from both Black history and contemporary Black culture, I aim to decipher dehumanizing representations of black people from the past, while simultaneously emphasizing symbols of pride and power found in today's Black American culture.