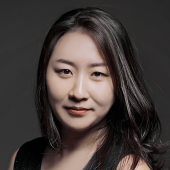 Raised throughout the midwestern United States, pianist Mi-Eun Kim has performed on stages across the country, as well as in Europe and Asia. She is a prizewinner of the Liszt-Garrison Competition's Liszt Award, the Corpus Christi solo prize, the International Institute for Young Musicians, Missouri Southern International Competitions and Young Arts (National Foundation for the Advancement of the Arts). Festival appearances include Piano Summer at New Paltz, Gijón Piano Festival, Art of the Piano at Cincinnati College-Conservatory of Music, PianoTexas, The Gilmore Keyboard Festival, and Kneisel Hall. 
Recent performances include her ongoing complete Beethoven piano sonata cycle at Beethoven @ 2020 Series at Butler University (Indianapolis, IN), Loyola University (New Orleans, LA), and Yiin Art Hall (Busan, South Korea) as well as a lecture-presentations at Atlantic Music Festival (Waterville, ME), and University of Michigan (Ann Arbor, MI). She appeared as a soloist with the Ann Arbor Symphony Orchestra, Kansas City Symphony, and Omaha Symphony. 
Mi-Eun is highly sought after as a collaborative pianist and chamber musician. In recent seasons she has performed with Four Corners Ensemble, premiering at Operation Opera (Spokane, WA), Innsbrook Institute (Innsbrook, MO), Garth Newel Music Center (Warm Springs, VA), Indiana University's Jacobs School of Music (Bloomington, IN), Atlantic Music Festival, (Waterville, ME), and Shepherd School of Music (Houston, TX). Mi-Eun has performed alongside Danielle Belen, Wei Yu, Simon James, Horacio Contreras, Fabiola Kim, Juliette Herlin, Elbert Tsai, Calidore Quartet, and composers William Horne and Shuying Li. She has served as faculty pianist at Sounding Point Academy and the Liberec International Violin Academy (Liberec, Czech Republic) and is currently collaborative piano and chamber music faculty at Center Stage Strings at University of Michigan.
Mi-Eun is faculty at Massachusetts Institute of Technology's Music and Theater Arts, teaching piano and chamber music through the Emerson/Harris Program. She has held teaching positions at Loyola University in New Orleans and Hope College (Holland, Michigan). She received her MM, DMA and Specialist degrees at University of Michigan and holds a B.A. in History from Columbia University as part of the Barnard-Columbia-Juilliard Exchange program. Her mentors include Logan Skelton, Yong-Hi Moon, Seymour Lipkin and Richard Cass.
Mi-Eun has recorded William Horne's Sextet for Piano and Winds on the Blue Griffin label. www.mieunkimpiano.com