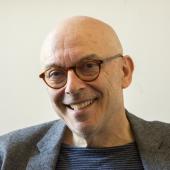 Class of 1949 Professor of Music, MacVicar Faculty Fellow
Peter Child, Class of 1949 Professor of Music, Margaret MacVicar Faculty Fellow. Ph.D., Composition, Brandeis University. Peter Child was League of American Orchestras' "Music Alive" composer-in-residence with the Albany Symphony Orchestra (2005-08) and composer-in-residence with the New England Philharmonic Orchestra (2005-11). He was born in England and has lived in the US since enrolling at Reed College through a junior-year exchange program. Child's composition teachers include William Albright, Bernard Barrell, Arthur Berger, Martin Boykan, Jacob Druckman and Seymour Shifrin.
His work has earned awards and commissions from the Cantata Singers, Boston Musica Vivam University of Southern California, Chorus pro Musica, the University of Southern California, the James Pappoutsakis Memorial Foundation, the Jebediah Foundation, Bank of America Celebrity Series, Music of Changes, the Fromm Foundation, the Harvard Musical Association, Tanglewood, WGBH Radio, East and West Artists, the New England Conservatory, League/ISCM, and the MIT Council for the Arts, as well as three Artists Fellowships from the Massachusetts Cultural Council. He has received fellowships from the Watson Foundation, the MacDowell and Yaddo Artists Colonies, and the Composers' Conference at Wellesley College, and four 'New Works' commissions from the Massachusetts Council for the Arts and Humanities. Child's music has been extensively recorded on the Lorelt, New World, Naxos, CRI, Albany, Innova, Centaur, and Rivoalto labels.