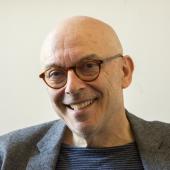 Class of 1949 Professor of Music, MacVicar Faculty Fellow
Peter Child, Class of 1949 Professor of Music, Margaret MacVicar Faculty Fellow. Ph.D., Composition, Brandeis University. Recent works include Tell Everyone: Fragments of Sappho (2021), which was premiered at the Bergen International Festival in Norway, and music written for streamed performances during the coronavirus pandemic: The Year of the Rat (2020), commissioned by the Cantata Singers and premiered by soloists from the ensemble, and Stella celi (2021), an APNM 'Masked Music' commission for composer/performer pairs, premiered by cellist Jan Müller-Szeraws. Peter Child has been awarded three Artists Fellowships by the Massachusetts Cultural Council, and he has been composer-in-residence with the Albany Symphony Orchestra and the New England Philharmonic Orchestra.
Child was born in England, where he first took composition lessons at age 12 with composer Bernard Barrell, and he has lived in the US since enrolling at Reed College through a junior-year exchange program. His composition teachers include William Albright, Arthur Berger, Martin Boykan, Jacob Druckman and Seymour Shifrin. Peter Child's music has been recorded on New World, BMOP/sound, Lorelt, CRI, Albany, Naxos, Neuma, Innova, Rivoalto, and Centaur compact discs.