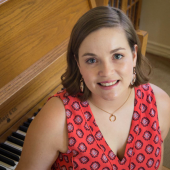 Sarah Iker joined the Music & Theater Arts  Department at MIT as a Lecturer of Music Theory. Originally from southern California, Dr. Iker holds a Ph.D. in Music History and Theory from the University of Chicago (2017) and Bachelor of Arts degrees in Piano Performance and Mathematics from Scripps College (2009). Before joining MIT-MTA, Dr. Iker taught music theory, music history, and aural skills at the University of Tampa, University of Notre Dame, New York University, and the University of Chicago. In addition to core music subjects, she has taught seminars on dance, opera and musical theater.
Her research explores the historical reception and perception of Igor Stravinsky's neoclassical music, written between 1920 and 1950. Her work uses digital humanities techniques to analyze contemporaneous description of Stravinsky's music to inform modern analytical approaches and reanimate older ways of perceiving the music. Dr. Iker has presented her research at regional, national, and international conferences, including the national meeting of the Society for Music Theory.
Beyond Stravinsky, her research and teaching interests include musical theater, music perception and cognition, other approaches to twentieth-century neoclassicism, and the digital humanities.