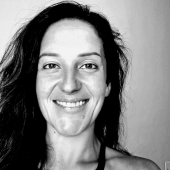 Stephanie is a dance choreographer, performer, and educator based in Brooklyn, CT. Her work evolves from a deep curiosity for learning through the body, building community through dance, and making performances that investigate and re-enchant everyday life.
She is currently a lecturer in Music and Theater Arts at MIT and the department Dance and Performance Studies at Roger Williams University. As an independent producer, she offers regular workshops and classes in and around Providence, RI and choreographs and performs for Jack in the Box Horror, seasonally. Stephanie serves as the editorial assistant and marketing developer for Janet Adler's newest book, Intimacy in Emptiness: An Evolution of Embodied Consciousness.
Stephanie's teaching is informed by a wide variety of movement, martial arts, and dance techniques and traditions, with a concentration on contact improvisation and contemporary dance. Her classes offer students the opportunity to play, connect and create while building skills to support both functionality and expressivity. Balancing wildness and specificity, classes focus on bringing awareness to inner sensation as it paces creative expression to reveal the body's instincts and inherent musicality. Improvising and skill training in pairs and as a group playfully challenges students to grow the non-verbal communication skills that allow them to connect to their own impulses for movement while coordinating with others and their environment.
Stephanie has taught Contact Improvisation and Contemporary Dance as an Adjunct Lecturer at Brown University, Salve Regina University and as a teaching fellow at Hampshire College and Smith College. As the founder/director of The Movement Exchange and as an independent artist, she produced dance and theater events, hosting local and international artists. Her choreographic work has been presented in several venues throughout Providence, Boston, Philadelphia and NYC. She holds a BFA in dance performance from Rhode Island College and MFA in Choreography from Smith College.