Struggle Gives You Strength—MIT Festival Jazz Ensemble 
Frederick Harris, Jr., Music Director
Livestream Virtual Concert featuring the world premiere of John Harbison's Chaconne
The resilient MIT Festival Jazz Ensemble presents the world premiere of John Harbison's Chaconne and the first performance of Richard Oates' '18, arrangement of Clair de Lune, inspired by Kamasi Washington's adaptation of Debussy's classic work. The program also includes Struggle Gives You Strength by Jihye Lee, Maria Schneider's Wyrgly, Tadd Dameron's Lady Bird, and performances by the Emerson Jazz Fellows.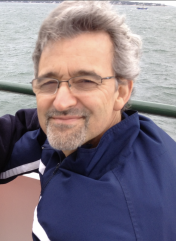 This concert is dedicated to Luis "Cuco" Daglio, whose creativity and indefatigable spirit elevates all music making for MIT Music and Theater Arts.
ABOUT MIT FESTIVAL JAZZ ENSEMBLE
Dr. Frederick Harris, Jr., Director
The MIT Festival Jazz Ensemble (MIT FJE) was founded in 1963 by Boston jazz icon Herb Pomeroy and led since 1999 by Dr. Frederick Harris, Jr. This advanced 18 to 20-member big band/jazz ensemble is comprised of outstanding MIT undergraduate and graduate students studying a wide range of disciplines. MIT FJE performs traditional and contemporary jazz ensemble literature, including student compositions and new works written for the MIT FJE by major jazz composers. Improvisation is a prominent part of the MIT FJE experience. MIT FJE has released five professional recordings including its major jazz label debut on Sunnyside in 2015, Infinite Winds, which received a five-star review from DownBeat and was chosen by the magazine as one of its "Best Albums of 2015 Five-Star Masterpieces."
The FJE has a long history of performing original music by MIT students and composers from around the world. Since 2001, it has presented over 50 world premieres. Among others, Mark Harvey, Herb Pomeroy, Jamshied Sharifi, Ran Blake, John Harbison, Chick Corea, Joe Lovano, Gunther and George Schuller, Kenny Werner, Don Byron, Steve Turre, Magali Souriau, Guillermo Klein, Chris Cheek, Miguel Zenón, Dominique Eade, and Luciana Souza have collaborated with the MIT FJE. In January of 2019 the FJE participated in a highly successful cultural exchange, touring Puerto Rico with Miguel Zenón, presenting concerts in various venues and also STEM workshops in middle and high schools.
Learn about the MIT FJE's collaboration with Grammy-winner Jacob Collier in this Emmy-winning documentary. Watch the Emmy-nominated documentary The Great Clarinet Summit, featuring MIT FJE. See an overview of MIT FJE's recent tour of Puerto Rico. Watch MIT FJE and Sean Jones perform an original composition by MIT student Alan Osmundson and Warren Wolf perform Heal! by MIT pianist-composer Peter Godart. And see an overview of MIT FJE's history here.
Don't miss a downbeat! Click here to subscribe to the Events Newsletter.