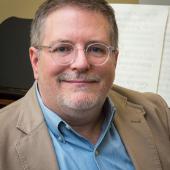 Charles Shadle teaches composition, music theory, and music history at the Massachusetts Institute of Technology where he serves as a Senior Lecturer in Music, and as Theory Coordinator. He is the 2016 recipient of a SHASS Levitan Teaching Award. Numerous institutions, including SUNY Buffalo, Longwood Opera, The Lake George Opera Festival, The Handel and Haydn Society, The Syracuse Symphony Orchestra, The Newton Choral Society, and Lontano (UK) have commissioned his work. For the National Film Preservation Foundation he has composed six film scores, all of which are commercially available. A career-long focus on vocal music has resulted in commissions from such distinguished singers as Carlos Archuleta, Fernando Del Valle, Gale Fuller, Jason McStoots, Margaret O'Keefe, Stephen Salters, Frederick Urrey, and Jeremy Huw Williams. Dr Shadle collaborated with MIT colleague and librettist Michael Ouellette on two operas, Coyotes Diner and A Question of Love, as well as the cantata, A New England Seasonal. Having previously served as Composer in Residence to the Ecclesia Consort in 2000, he held the same position with Intermezzo in 2007-08 during which time he composed the critically acclaimed opera A Last Goodbye, again to an Ouellette libretto.
Major recent works include the song cycle Primordia for Baritone Jeremy Huw Williams, a Missa Brevis Sanctii Oswaldi for the Schola Cantorum of St Stephen's, Providence, Dogtown Common (piano quartet) for the Rockport Chamber Music Festival, a 3rd Symphony for the MIT Symphony Orchestra, and Three Chardin Fantasies for fortepiano trio, as part of "On Beethoven's Piano" a residency cosponsored by MIT and The Handel and Haydn Society. During the 2021-22 season his choral setting of poems by the Mvskoke/Creek poet, Alexander Posey, The Far Blue Hills, and the Symphony No.4 are slated for first performances.
He received his Ph.D. in Composition and Theory from Brandeis University and counts among his teachers Cecil Effinger, Richard Toensing, Barbara Jazwinsky, Martin Boykan, Yehudi Wyner, Edward Cohen, Harold Shapero, and Eloise Ristad. Dr Shadle is an enrolled member of the Choctaw Nation of Oklahoma. This heritage is reflected in works ranging from the large-scaled Oklahoma Choctaw Cycle (Limestone Gap, Red Cedar, and The Old Place) for chamber ensemble, to the short and accessible Choctaw Animals piano pieces, recently made available (https://shass.mit.edu/news/news-2021-choctaw-animals-mit-composer-charles-shadle) by MIT.